Imagine risking an injury every time you gave your child a bath or helped your spouse into the shower. Or a teenager who has never had his own room, living in the family living room because he cannot manage the stairs.
These behind-closed-doors stories are what inspired Horizon Pacific Contracting to launch the Step Up Community Build Program. As a company that has been listening to forever home dreams for over three decades, we are intimately familiar with the process of customizing a home to meet the unique needs of the people who live there.
One of the things the pandemic highlighted is the importance of home livability. For some people, this might mean a kitchen remodel or adding a room for a home office. But, for a large part of the population, improving livability means changing an aspect of the home that causes significant challenges for day-to-day living.
Using principles of Universal Design, Horizon is offering a home renovation to make an aspect of the home accessible based on the needs of the people living there. These retrofits to reduce or remove barriers in the home have an incredible impact on the quality of life for the occupants. When families are facing fewer challenges at home, they can focus more on their goals, their day-to-day quality of life and their future. And stronger families mean stronger communities.
Supporting Families in the Community
Horizon Pacific Contracting is excited to be resuming the Step Up Program in 2022. The program was put on pause in 2020 out of caution regarding pandemic spread. While new construction could continue, extra precautions were taken in situations where homeowners remained in the house during the work. Starting in 2022 the company will select a family annually for a custom renovation to alleviate daily challenges caused by a home's layout or amenities.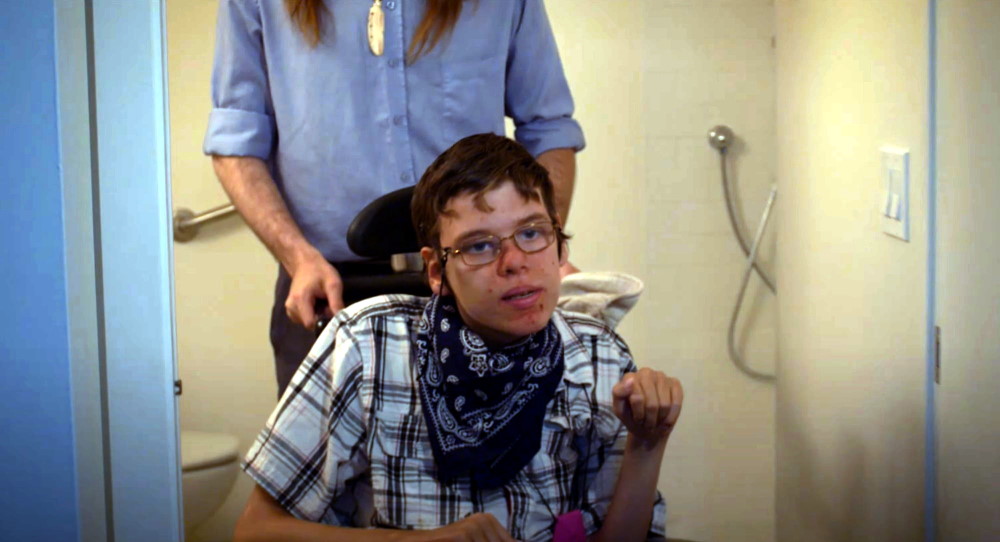 The modifications can help people be more independent, such as changing heights for counters and light switches or making a bathroom accessible for a walker or wheelchair. It also helps reduce injury for individuals and those providing care and support by eliminating situations requiring lifting and reducing the chances of a fall.
"In a way, every home is customized. People decide where to put their furniture, what appliances they need and where they should be located based on what works best for them and for the house layout. With someone with mobility or cognitive challenges, they need a higher level of customization," says Tim Agar, owner of Horizon Pacific Contracting. "That's where we come in, utilizing the company expertise to directly address barriers at the structural level."
Why Give Back
As a custom home builder, Horizon is a design-build specialist. By building to meet very specific needs, a house more readily becomes a family home and a place where people can thrive.
For Horizon, home is intrinsically linked to the community. While the focus in BC is often on real estate and what a house is worth, it's important to not lose sight of the fact that the buildings are home to someone.
"We wanted to translate our belief in the importance of home into tangible action, something that could make an immediate difference for an individual and a family. We can use our building expertise to make changes and ultimately a huge difference in people's lives," says Agar.
Reducing home-related challenges can improve mental health. It's also beneficial to keep people in their homes and in their community. What a relief that a family can stay in their neighbourhood, close to their support and networks, rather than going through the stress of locating and moving to a new space.
While aging in place is a concept considered at the outset of many modern builds, many older homes do not have these provisions.
For us, each project is also an opportunity to be innovative and continue to develop expertise in that area. As a company that prides itself on creative problem-solving, Step Up is an opportunity to use our expertise to make a tangible difference.
A Company-Wide Initiative
Step Up is a reflection of our core company values. Our employees support the initiative and are keen to contribute to community-building in this way.
When the inaugural Step Up project was completed and an unveiling was held, the entire Horizon staff joined the family and partner contributors to the project to see what had been accomplished. It was a proud moment for everyone.
"The whole team is on board with this approach to community building. There is excitement in the company about the program and the families we have helped and those we will help in the future," adds Agar.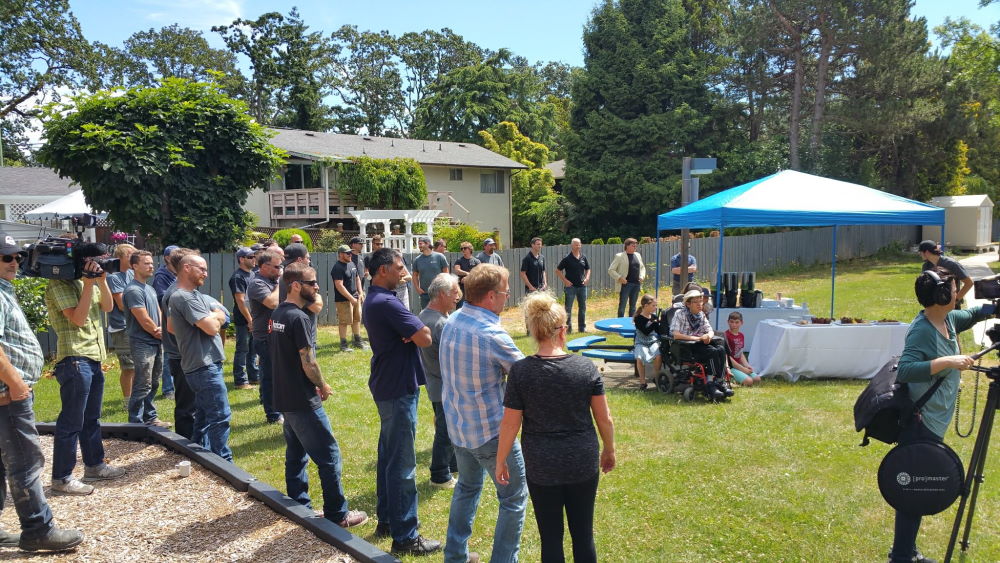 Bringing the industry together for good
The Step Up Program also brings the construction industry together to give something tangible to the community. Every project brings together a broad cross-section of suppliers and partners from design to completion. Contributors provide services for free or at deeply discounted prices to help support the best outcome for the family. Partners also bring their experience and expertise, providing suggestions, ideas and innovations to each project.
It was also important to offer something that didn't duplicate existing efforts in the community. Many organizations are doing incredible work with families, and companies, and even support other charities. It was important for us to focus on a gap in community support to put the custom building expertise to the best use.
Using Our Expertise
Retrofitting a home to meet specific needs requires a high level of expertise, especially when the residents remain living there through the renovation. One of the things Horizon brings to the project is an ability to improve the functionality of the home while maintaining an aesthetic so the upgrade fits with the home's existing style.
Agar explains: "Even a small renovation can become complicated when incorporating specialized features or amenities, especially with older homes. It's important to us to complete the project with minimal impact on the home occupants. We are using the depth of the company's knowledge to bring change to families for the better."
What Does It Mean For Our Customers
For Horizon Pacific Contracting, giving back to the community makes us a better company. The opportunity to provide creative building solutions for families also makes us better builders. We are able to support people from all walks of life and develop custom solutions for people who really need it.
We believe in supporting the community and putting our expertise to the best use possible to build stronger communities. Helping people stay in their homes or live more comfortably or productively in their homes benefits everyone.
You can help the program. Spread the word. Encourage them to apply if you know someone who could benefit from our help. We will continue to build the program and look forward to announcing our next Step Up family.
Contact Horizon Pacific Contracting
Read our latest home building articles.