When it comes to finishing your custom home, the options are endless. The 'modern style' in particular takes inspiration from industrial, urban, and large-scale applications, offering an interesting mix of contemporary textures and features, each with its pros and cons. Add in considerations like cost and maintenance and it's no wonder deciding can feel overwhelming. But with a little research and a willingness to be different, you can have an intriguing exterior that fits both your taste and budget.
In this article, we give a brief overview of the latest trends in modern home claddings, as well as the reasons you may want to choose one over the other. Let's get started.
Concrete Finish
Concrete is a finish that has transitioned from industrial applications to become a staple element in modern home design. It is extremely versatile and can be applied in a range of designs, textures, and formats.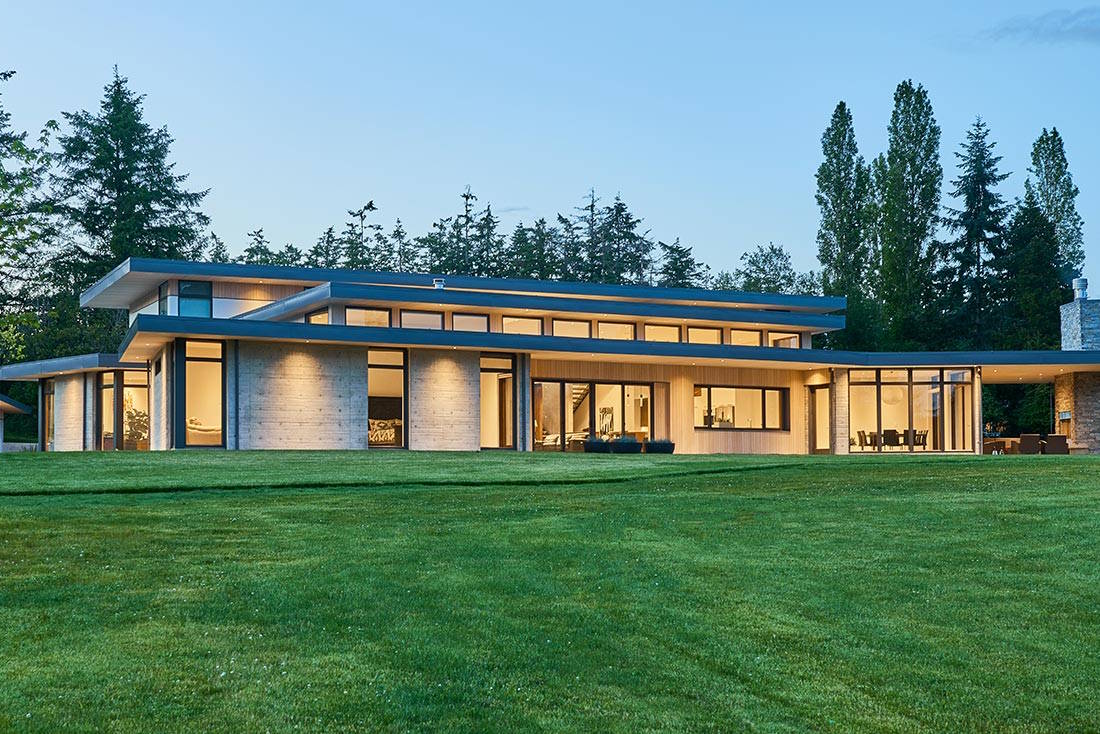 Concrete also mixes well with other exterior claddings such as wood, stone, or metal. Whether you are looking for a cutting-edge modern design or touches mixed with more traditional elements, concrete has a lot to offer.
It is strong and durable, being scratch and dent resistant as well as virtually impervious to fire and water.
When concrete is part of the building structure as well as the finish, it requires special building techniques to ensure it is as functional as it is beautiful.
Here are three popular types of concrete finishes that stand out in modern homes:
Board formed concrete
A striking look, board-formed concrete combines the texture of wood with concrete's modern aesthetic. Wood boards are used to create the concrete forms leaving the wood grain imprinted on the finished wall. As each wall is custom-built with new boards, no two walls are alike. When a greater level of texture is desired, the boards are sandblasted to raise the grain, leaving a more noticeable imprint on the concrete.
Because it is very labour-intensive to create, board-formed concrete is one of the most expensive exterior finishing choices. It requires care and attention to achieve a beautiful look while also performing well as part of the home's structure.
"Because concrete can sweat in cold weather it requires a specialized building technique to ensure it performs well and doesn't cause excess moisture in the house," says Tim Agar of Horizon Pacific Contracting. "We use a 'house within a house' building technique, treating the interior of the concrete like a house exterior. This ensures you never have to worry about condensation in the walls of the home."
Architectural Concrete
Architectural concrete is another finish that has its roots in industrial design. While it is often chosen for its perfectly smooth finish, there are also various textures and colours available.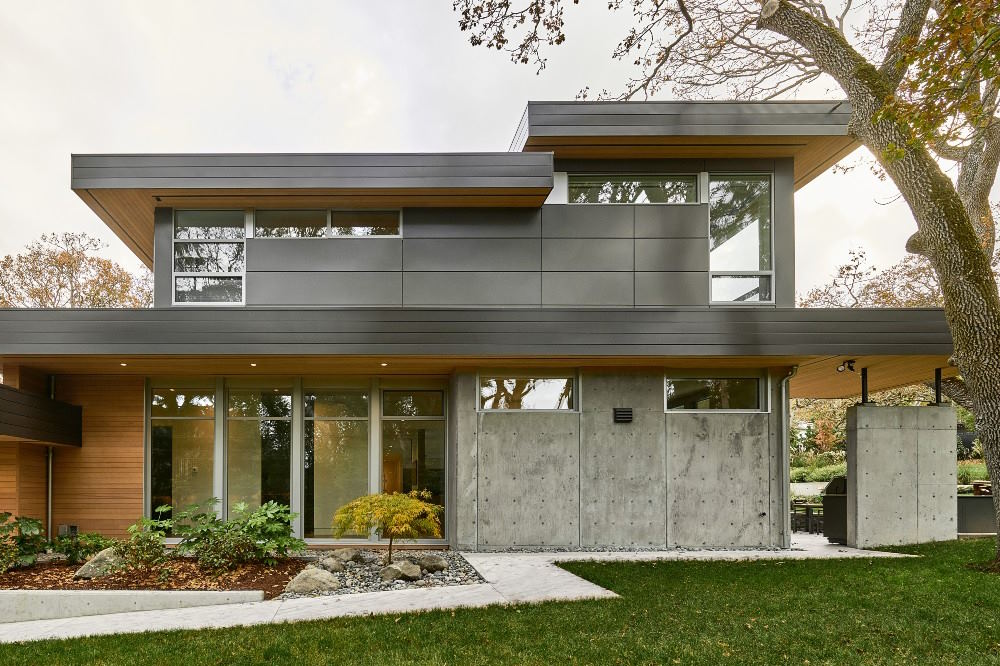 Architectural concrete is also laborious to create so is at the top end of the range in terms of cost. Another key consideration is architectural concretes weight as it will have an impact on your design.
Exposed Concrete
Exposed concrete is the finish left by the concrete forms used to make the wall. The type of forms used to shape the finished look. This finish works well as a mixed medium, often combined with wood accents.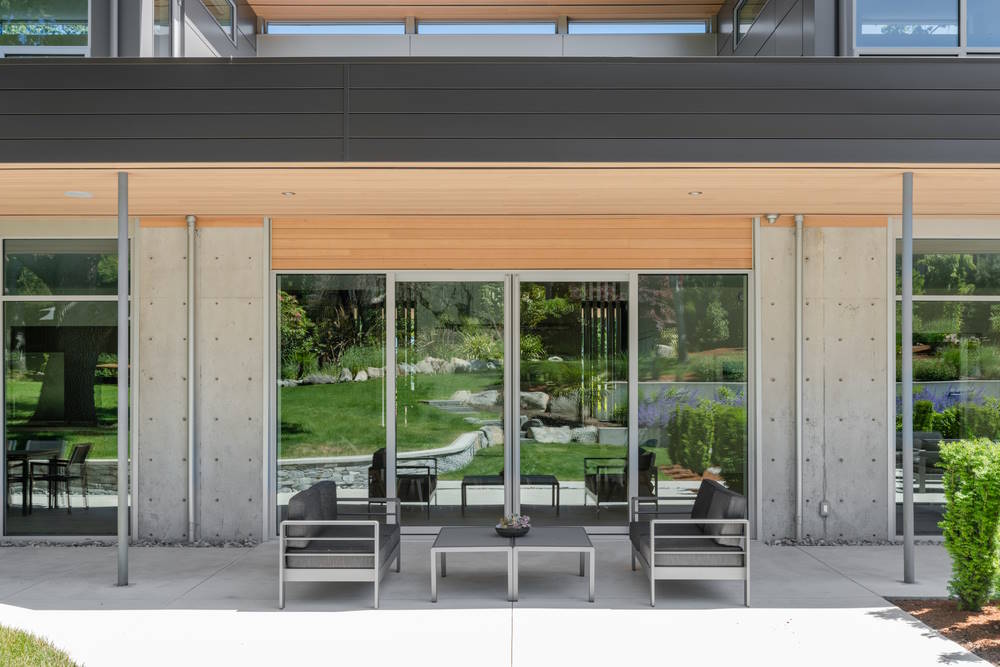 See more of this custom home
Fibre Cement
Fibre Cement is a concrete composite finish that is applied to the façade of the house. The cost of fibre cement finishes ranges greatly with some at the top of the price range as well as many mid-range options.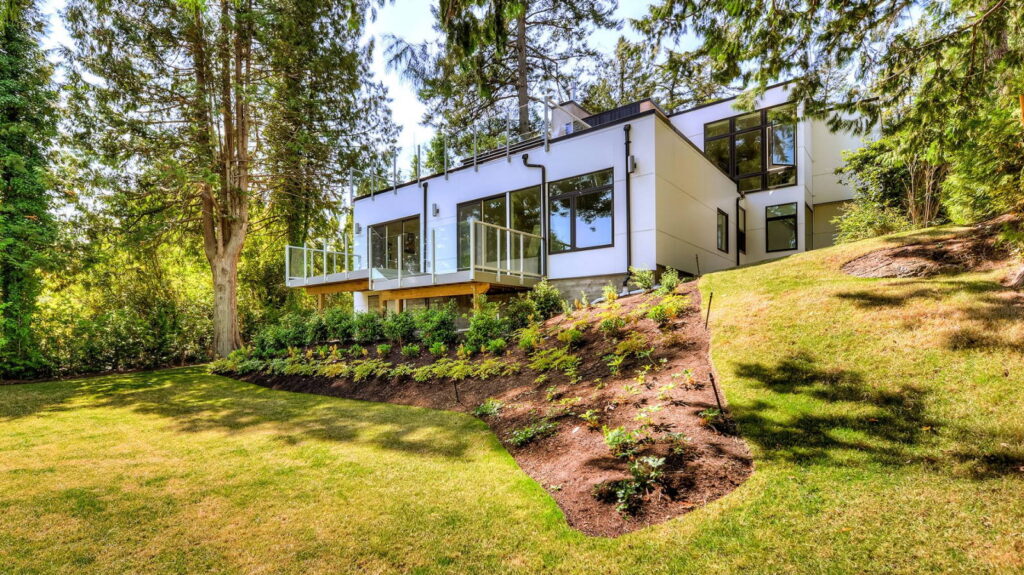 Fibre Cement is a concrete composite finish that is applied to the façade of the house. The cost of fibre cement finishes ranges greatly with some at the top of the price range as well as many mid-range options.
Swisspearl fibre cement
Swisspearl® is a concrete composite that is on the top end of the cost scale. The product is made to custom specifications for each home and sent ready to install. Because it is not prepared on the building site the installation time is reduced and there is virtually no onsite waste. Available in a variety of shapes and colours it is completely customizable to your home's unique design while offering soundproofing, stability, durability and fire protection. This is one of the most expensive exterior finishes on the market but it offers extreme longevity and durability.
Hardieplank
JamesHardie™ products are fibre cement finishes including planks, shingles, soffit panels and trim. Products are available primed and ready for painting or in a choice of baked-on preset colours which are longer-lasting than paint.
"Hardieplank is often used in spec builds so for some the exclusivity appeal has diminished but it is an elegant and versatile option," says Agar. "This finish pairs the durability of cement with the flexibility and versatility of wood."
Metal Cladding
Offering a very modern, urban look, metal is a striking exterior finishing choice – it isn't just corrugated anymore. Metal comes in a variety of colours and is much more resistant to colour fading than painted surfaces. It can have a smooth appearance or a textured surface that can be mixed and matched or employed as a complement to wood or stone elements.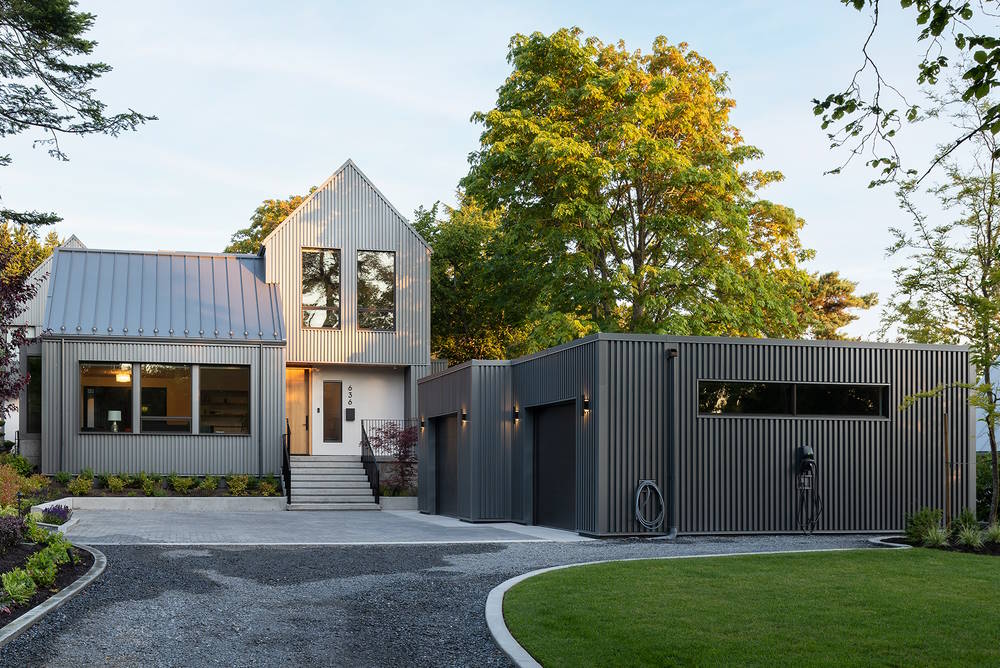 See more of this custom home
Metal cladding is usually non-structural, allowing for more versatility in the use of this striking exterior finish. Additionally, it is not susceptible to insect damage or fire. While metal siding is extremely durable as well as low maintenance, it can be difficult to repair when dented or scratched. It is also not suitable for waterfront homes as it is not rated within one kilometre of salt water.
Metal is in the mid of the range for the cost of installation.
Shou Sugi Ban
Originating in Japan, Shou sugi ban (also known as Yakisugi) is a burnt wood exterior finish that truly stands out. While burnt wood siding might seem counterintuitive as a long-lasting exterior choice, the charring acts as a barrier to the natural elements that break down wood
When wood is cut or milled the cells are open to natural elements such as water or insects. Charring the wood closes the cells, creating a protective barrier. This does the same job that paints and stains do, without the short time between recoating. How much the wood grain is highlighted depends on the level of char selected for the finish
This finish is inherently durable, repelling pests and offering natural fire resistance. Maintenance is minimal with the surface needing a recoating of oil every 10 to 15 years. Shou sugi ban has been known to stand up to the elements while looking beautiful for up to 100 years.
One aspect to be aware of is occasionally some of the char can flake off or rub off when the surface is touched, a key consideration when planning Shou sugi ban's placement. The surface can be coated to mitigate the chance of flaking but will need more frequent recoating than the oiled surface.
The cost of installation is in the mid-range for exterior finishes.
Wood
While wood may not spring to mind immediately as a modern finish, it's a key element in modern exterior design, adding warmth to concrete or metal and offering a visual connection to a home's coastal setting.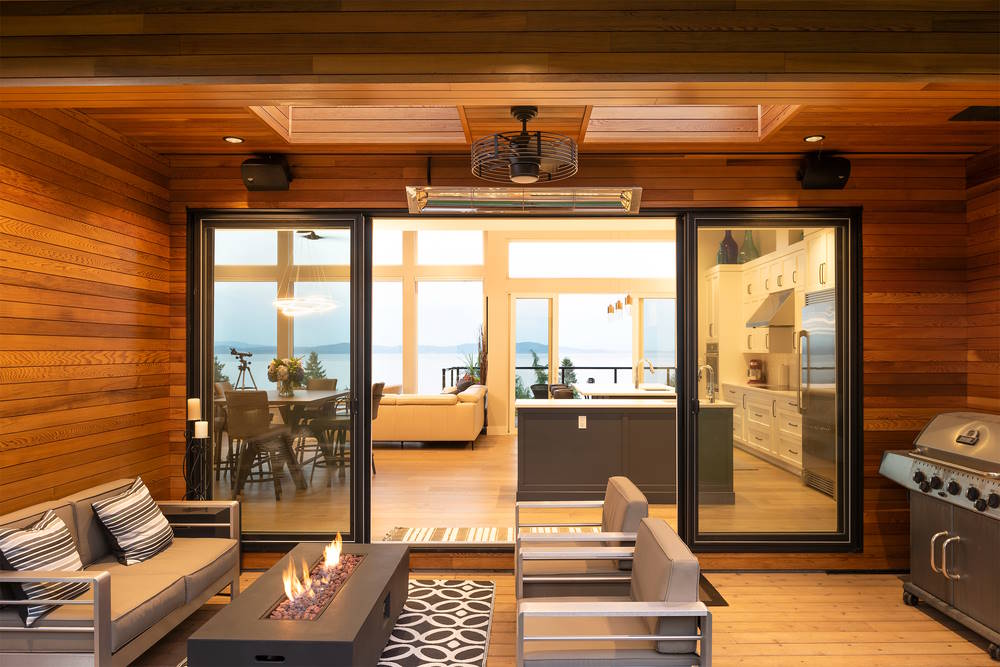 See more of this custom home 
"Cedar oil is a natural preservative. It gently weathers to grey and doesn't need stain or paint in that state," says Agar "The reality is that most people want to maintain the freshly coated look which requires a fairly rigorous maintenance and recoating schedule."
Strategic placement of wood elements can keep the maintenance schedule to a minimum while also maximizing its beauty. Wood in soffits can go 10 to 15 years before needing a refresh, while on siding it needs attention much more frequently.
"We don't recommend it as a wall choice as it needs to be refinished every two years to maintain that freshly-installed look," says Agar. "And if you fall behind in the maintenance schedule the wood can stain and the original, pristine look can't be recovered. Strategically placed it maintains its natural beauty for a long time while keeping the maintenance to a minimum."
Stucco
Stucco will perform well for several decades before maintenance is required. While it is extremely durable, there can be a risk of cracking if the foundation shifts. Proper construction methods ensure stucco's longevity and beauty for the lifetime of the home.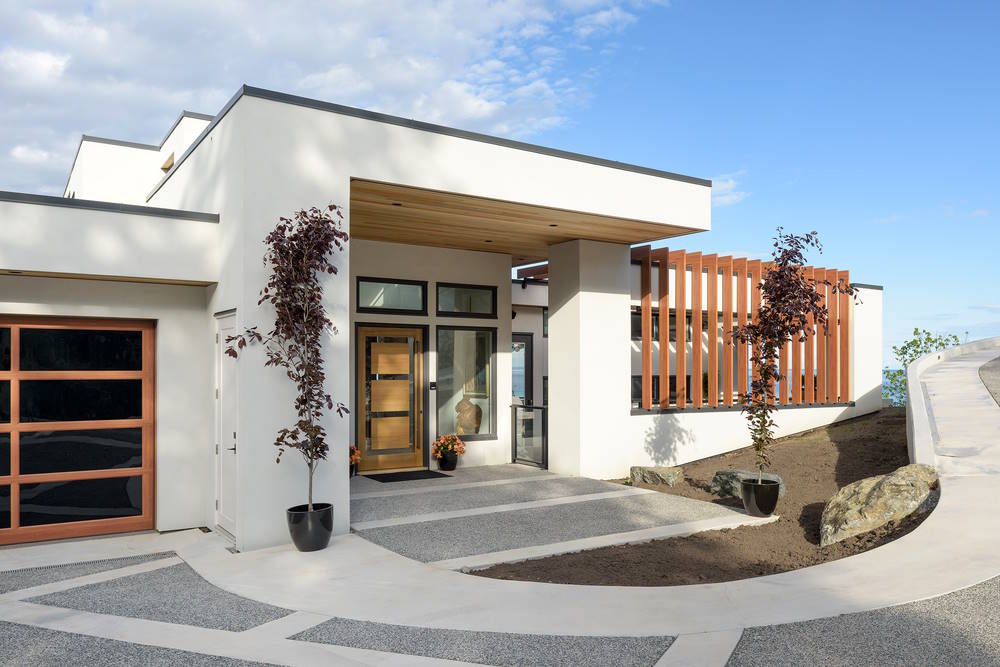 See more of this custom home 
"Stucco is the original modern cladding. It's been around for thousands of years. From a cost and design perspective, it checks every box," says Agar. "It holds sharp, defined lines that capture the modern silhouette, is low maintenance and offers a great deal of versatility."
"The biggest challenge with stucco right now is there are very few stucco companies," says Agar "The key to stucco is good installation, ensuring the application is colour stable and there is no thermal movement. With proper installation, it maintains its sharp lines forever."
Other modern home trending elements
Statement Doors
The door is the entry point to your home. It is part of the first impression and should complement the exterior design. Doors that stand out and make a statement are popular features in modern homes. We are seeing a lot of oversize doors, custom doors such as carved doors and lots of glass. Your exterior door can come in many different materials, including Fiberglass, Metal, or Wood.
Mixing materials and textures
Mix natural wood with industrial-inspired modern finishes like concrete to add an organic warmth. Mixing textures creates visual interest and can emphasize architectural features.
Windows
Windows that maximize views; windows that create an airy feeling of bringing the outside in while maintaining a clean, modern look are a staple of modern homes. Architectural and building advancements have allowed for larger windows and minimal trim, making windows a prominent feature of many home designs.
Stone
Natural stone also adds an organic element to modern design. It adds texture and in some cases relates the home to the natural surroundings. The finish is available in a variety of colours, shapes, and textures to complement the other building elements and can often be sourced locally.
There is no shortage of design choices for the exterior finish of your home. Picking the right one for your home is a big choice. Build a lookbook of homes that have designs and finishes you like and work with your architect and builder to determine which will work best with your design and budget. Their expertise and experience will be invaluable in helping achieve the right exterior for your home.
CONTACT HORIZON TODAY