On Southern Vancouver Island, homeowners get to enjoy unarguably the most livable climate in all of Canada. Year-round mild temperatures coupled with strong ocean breezes prevent us from getting scorched by 40C heat, being sapped by suffocating humidity, or choking on wildfire smoke. Plus, with all the beautiful scenery and west coast landscapes Greater Victoria BC has to offer, there's plenty of reasons to get outside. But these days, people want to do more than just get outdoors. They want to live there.
When it comes to outdoor living trends, luxury resorts are an enticing source of inspiration. With their perfectly manicured landscaping, spectacular outdoor furniture and dining setups, incredible views and innovative use of technology, the world's best resorts are built for your relaxation.
In this article, we're going to highlight some of the most luxurious outdoor living trends inspired by the world's most posh resorts followed by some of our very own custom builds.
Luxury Resort Inspiration
Nurai Island – Abu Dhabi, United Arab Emirates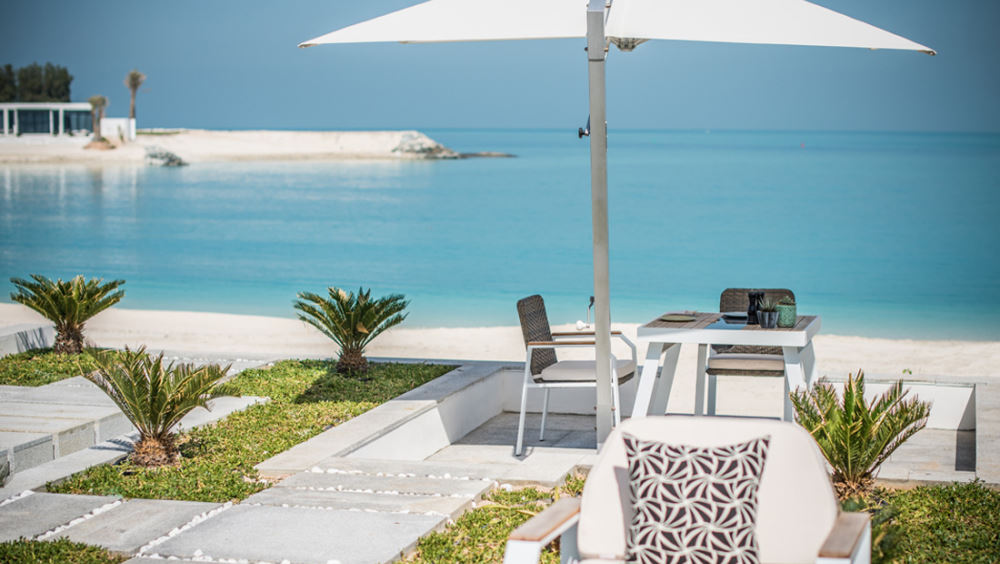 15 minutes off the shore of Abu Dhabi is the stunning and very private Nurai Island. The island is lined with beach suites complete with outdoor pools and luxurious outdoor furniture along with views of the sparkling blue sea. The scenery is what makes this place extra special, but the outdoor living spaces have been attentively designed too. Fitting with the beach theme, you'll find design elements like:
Amangiri – Utah, USA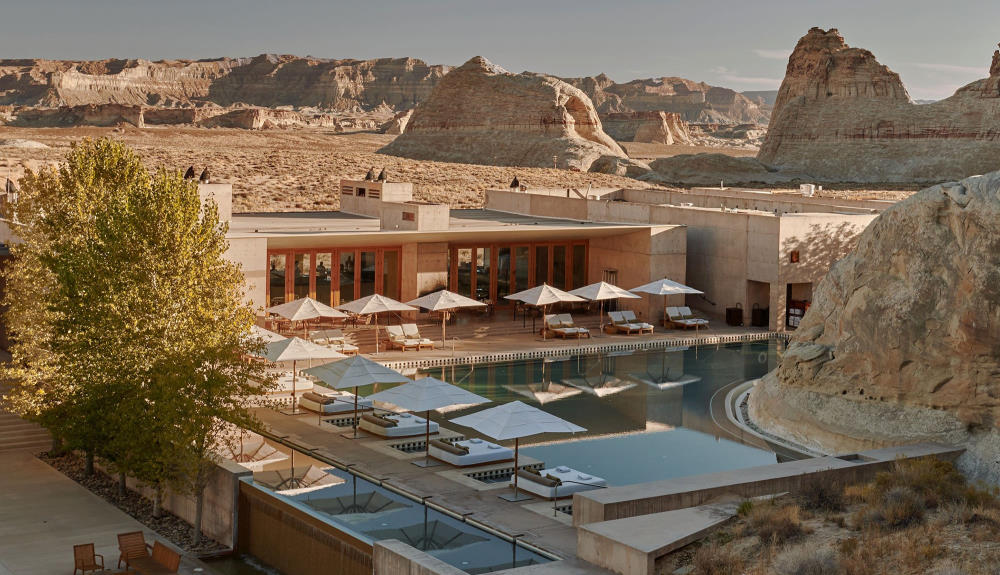 The Amangiri Resort in Utah is a truly unique destination that sits on 900 acres of the original Wild West, surrounded by red rock mountains and plateaus. From both the common spaces and the private suite areas, you'll be surrounded by breathtaking views of towering rock and vast countryside. The outdoor living spaces feature:
Pikaia Lodge – Galapagos Islands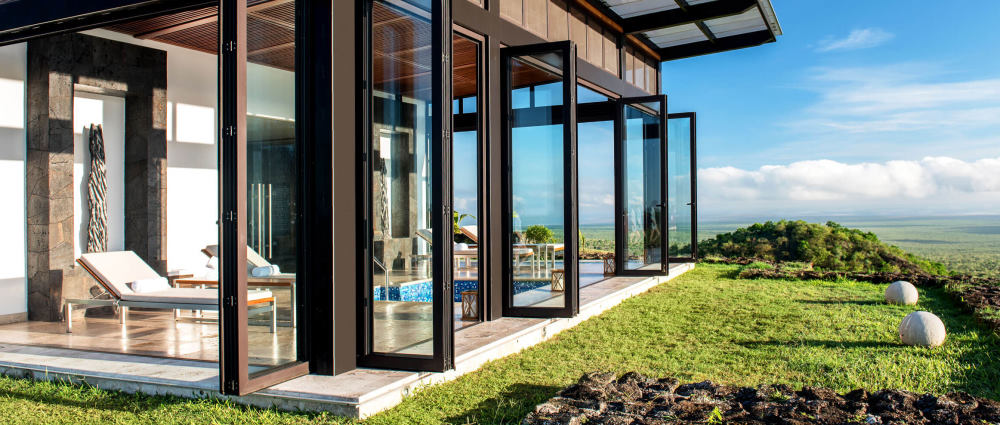 Perched on a small hill located on the Galapagos Islands, the Pikaia Lodge allows visitors to experience magical natural habitats and stunning 360 degree views of the island and ocean. If you stay in a 'Pool Suite', you'll have access to your own private pool and outdoor relaxation area. The resort is designed with:
Six Senses – Kaplankaya, Turkey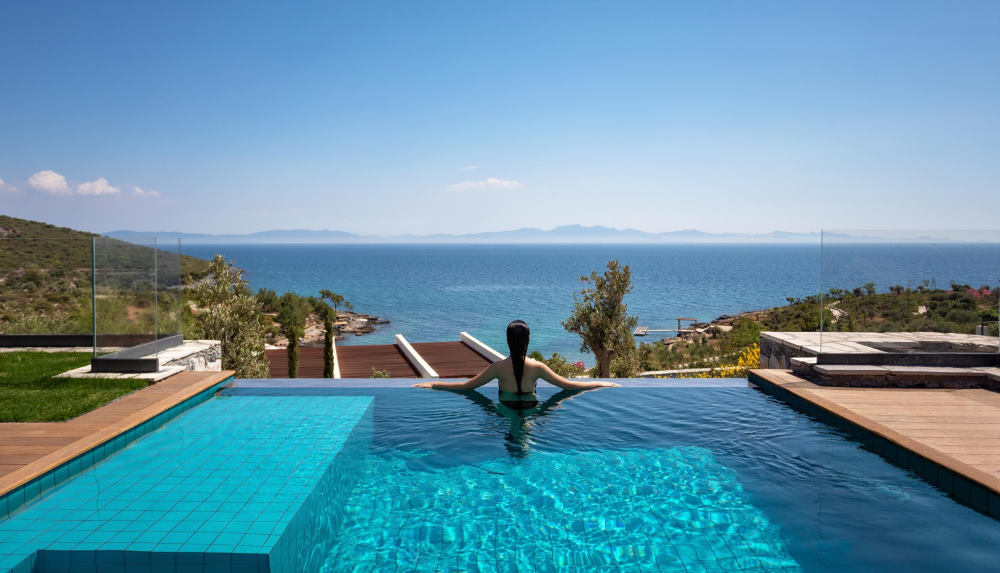 Six Senses resort in Bodrum, Turkey is a private luxury destination surrounded by the Aegean sea. The resort has been in a very fitting Mediterranean style, complete with:
Upgraded dining and cooking spaces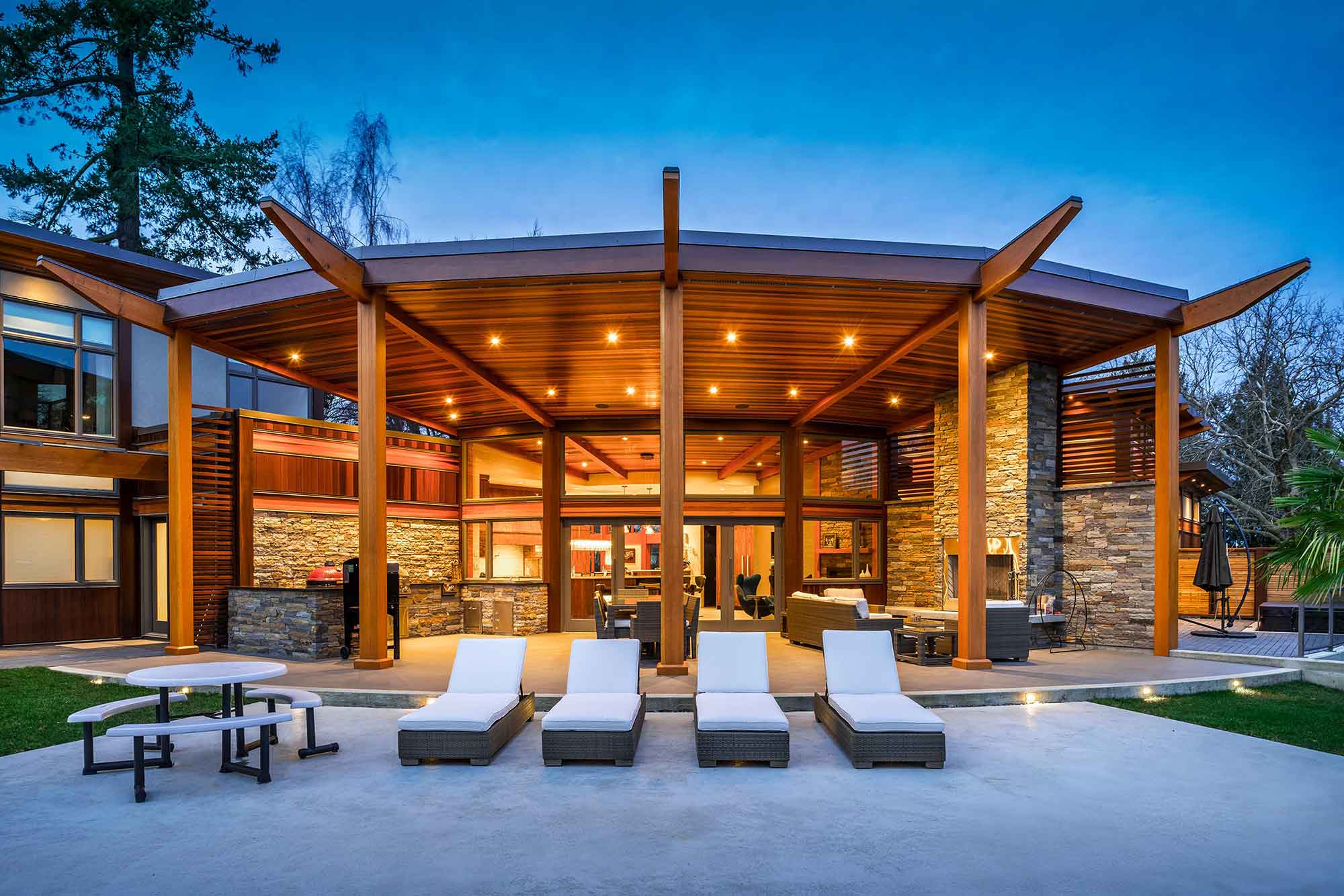 With more and more BC homeowners looking to upgrade their outdoor living space, breathe more fresh air and enjoy the elements, a dining/cooking area is often the first place to start. It's easy to spend time outside when you have the ability to comfortably prepare and enjoy food. An upgraded dining and cooking space outdoors is also ideal for family dinner nights, garden parties and long, relaxing evenings filled with fresh air.
Resort-style design
A professionally designed yet comfortable outdoor dining space is a true mark of luxury. With such a space, you'll be able to live as comfortably outdoors as indoors, with the ability to entertain friends and family all year round. Almost any resort you find (in a warm climate) will boast gorgeous outdoor dining areas. Combined with the addition of stunning views, the Amangiri Resort and Nurai Island Resort has done this to perfection.
Outdoor comfort
It all starts with comfortable area for kicking back. There are a dizzying number of options for outdoor couches, dining tables and chairs, but when in doubt, keep it organic. According to Better Homes and Gardens, one of the biggest trends in outdoor comfort is organic modern style. Already popular indoors, the trend has spread outdoors and includes naturalistic stone, salvaged wood furniture, decorative ivy and vintage clay pots. To achieve that extra level of comfort, think about installing an electric fireplace for evening warmth and an unbeatable vibe.
Cooking outdoors
You'll also want to consider adding a cooking area to your outdoor living space to not only enjoy your food in, but cook it too. The barbeque is a classic backyard staple and a great place to start. But you can take it a step farther. Outdoor appliances like refrigerators, ranges, sinks and wine coolers along with storage space and countertops can be installed to give your outdoor cooking area the full-service capability. But there's more… we've saved the best for last.
Perhaps the biggest trend in outdoor cooking and dining is the wood-fire pizza oven. While the installation and logistics are little more complicated, having your very own wood-fire oven in your own yard is well worth it. Among family and friends, you can enjoy authentic, restaurant quality pizzas in just minutes. Welcome to the world of luxury outdoor living.
Manicured landscaping and food growing spaces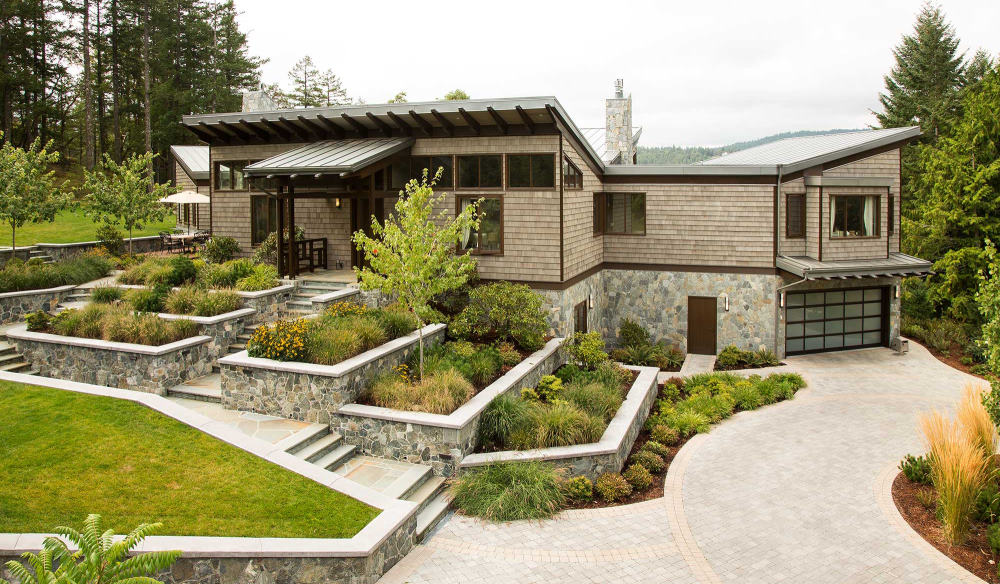 Immaculate landscapes are one of the most noticeable parts of any luxury resort. Especially evident at the Nurai Island Resort and Pikaia Lodge, there's been special attention put towards the landscaping. But as a homeowner, consider taking your landscaping a step further by turning your yard into your own mini self-sustainable food supply.
Growing food outdoors
People have been growing food for millennia, yet somewhere along the way, most of us lost touch with our ability to grow our own food. But that's changing. In an effort the become more self-sustainable and cut down on trips to the grocery store, homeowners are turning to edible landscapes and dedicated food growing spaces.
Whether you're looking to bolster your salads with fresh toppings from the garden, grow your own root vegetables or make fruit rain down from the lush, shade-bringing trees in your backyard, there's plenty of opportunity to grow your own food here in BC.
Despite our rather erratic climate, root veg like carrots, potatoes and turnips along with leafy greens like spinach and lettuce thrive in BC. You can even grow tomatoes, cucumber cauliflower and cabbage if you plant at the right time. There's also plenty of fruit to be grown. If you live in the Okanagan, your options are nearly endless thanks to the climate enjoyed by heat-seeking fruit. But if you're closer to the wetter, cloudier Greater Vancouver area, a wide variety of apples and berries can be grown, along with plums, figs, pears and even cherries.
With the help of greenhouses, your food-growing capabilities are taken to the next level. Greenhouses give homeowners the ability to grow things that love heat, and protect their plants from bad weather. With a barrier between your plants and the elements, you can extend your growing seasons and protect against pests.
But you don't need a greenhouse or dedicated garden to grow food at home. Certain edible items can be incorporated right into the rest of your landscaping alongside shrubs, flowers and other growth. Leafy greens, tomatoes and herbs can be planted outside to look perfectly natural, blended with the rest of your landscaping. It's also possible to plant edible flowers in your yard, which can be used to garnish drinks or spruce up a salad.
Big upgrades to outdoor tech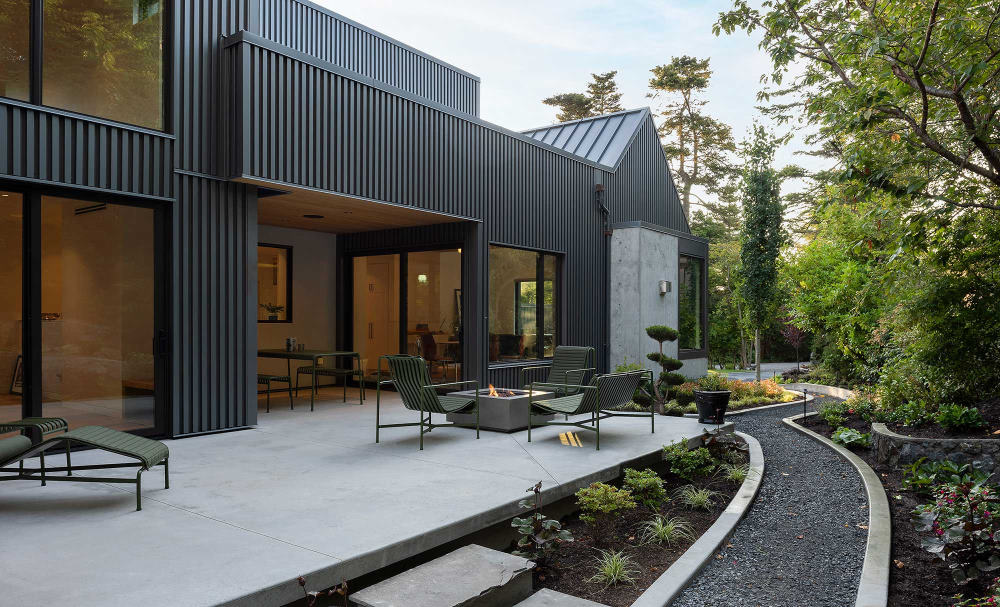 British Columbians love spending time outside. And why wouldn't we? Flanked by mountains, forest and ocean, there's almost always something to enjoy from the comfort of our homes. That's why it is no surprise BC homeowners are leaning into their outdoor spaces. By upgrading the technology in your outdoor living spaces, it becomes even easier to comfortably spend your time outside. And that doesn't mean dragging the TV out onto the patio…
Music
To start, the audio capabilities at our fingertips have came a long way. Portable Bluetooth speakers work great for the beach, the shower or on the go, but outdoor speakers are where it's at when it comes to sound quality. You can buy speakers that are built to withstand rough weather and insects, while providing clear and strong audio. Plus, everything can be controlled from your phone or a special console.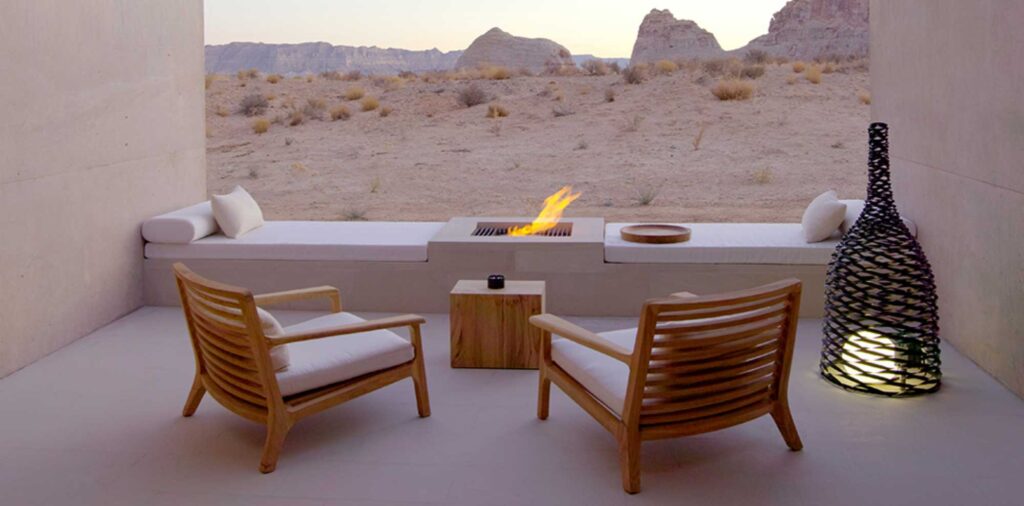 Adding a fire pit to your outdoor seating area is a big step up towards resort-style luxury. A fire feature can do a few things for your outdoor relaxation. To start, they're supremely comfortable for late evenings. The fire pit demands to be gathered around, and will quickly become the focal point of your outdoor living space. They also give off very unique ambient lighting that can't be replicated by other light fixtures. For inspiration, we love the sleek private fire pits at the Amangiri in Utah.
Special outdoor TVs
You may also be interested in watching the game or catching up on your favourite reality show from the comfort of your backyard. In the past, bringing TV's outside never really worked. The glare makes the TV almost unwatchable, plus you're investing an accident to happen with cables running every which way across your seating area. These days, there are specially designed TVs on the market, built to be enjoyed outdoors. The chassis of an outdoor TV is constructed to withstand dust and water, plus the screens are specifically designed to reduce glare.
Security tech
With all this new audio/visual equipment installed permanently in your outdoor living space, you may way to invest in security measures. The tech has come a long way in this department as well, helping comes become smarter and safer. Outdoor lighting not only does an excellent job at deterring crime, it looks incredible too. Light up your pathways and outdoor living spaces to make your yard more walkable and visible, while setting an atmosphere that inspires comfort. You can even install discreet security cameras throughout your perimeter as an extra layer of protection. Plus, outdoor lighting and other security features can be controlled remotely from your personal device, in true Smart Home fashion.
Water features for relaxation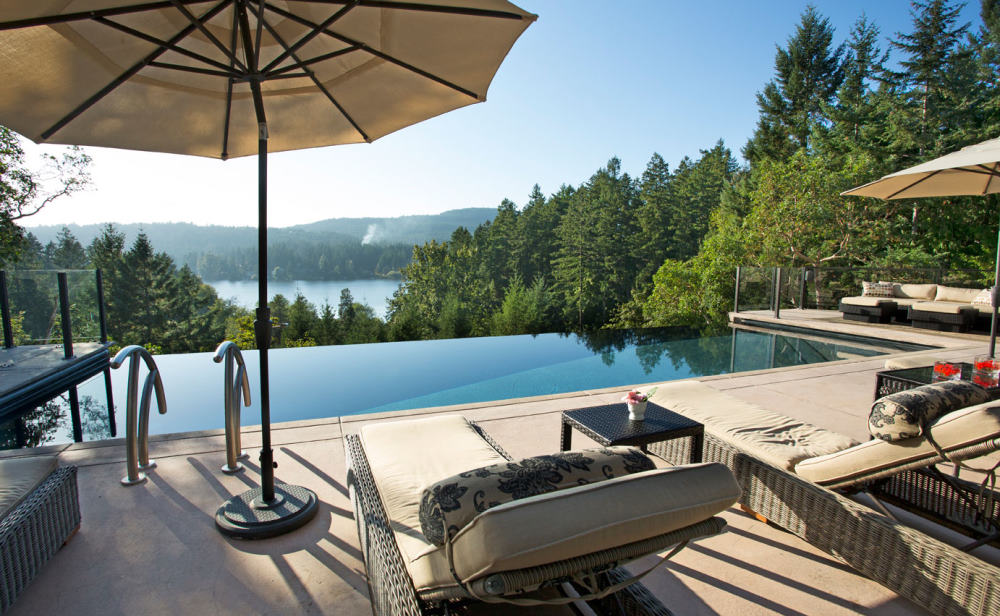 Installing a water feature of any kind in your outdoor living space is one of the most effective ways to soothe your mind and body. The classic option is an outdoor, in-ground pool. Especially during those hot BC summers, a pool can be the ultimate method of relaxation. Plus, as pools are a great option for entertaining, you're sure to become the envy of your friends and neighbours. If you're building your next home, consider installing an in-ground pool and consult with your home builder to make it happen. This infinity-style pool that spills over the edge toward incredible views is reminiscent of the Six Senses Resort in Turkey.
Outdoor spa features
If you're going for the outdoor pool, you've got to spring for the hot tub as well. And in all honesty, because of our varying climate, the hot tub might be even more essential in BC. Plus, the hot tub is an essential feature of any luxury resort. A hot tub can be enjoyed in all seasons, and is just as relaxing in a downpour. Plus, they require far less space and suck up a fraction of the electricity. And aside from being extremely relaxing after a long day, hot tubs can provide real health benefits too. Submerged in hot water, the body can relieve itself of stress and pain, which improves our ability to sleep and even our cardiovascular health.
Eye-catching fountains 
Another water feature to consider is a fountain in the yard. It doesn't get much more relaxing than falling asleep to the sound of falling water – among the most peaceful varieties of white noise. These features can be relatively low maintenance, and can provide your outdoor living space with an extra level of charm and elegance. You can even fill it with fish!
Backyard rooms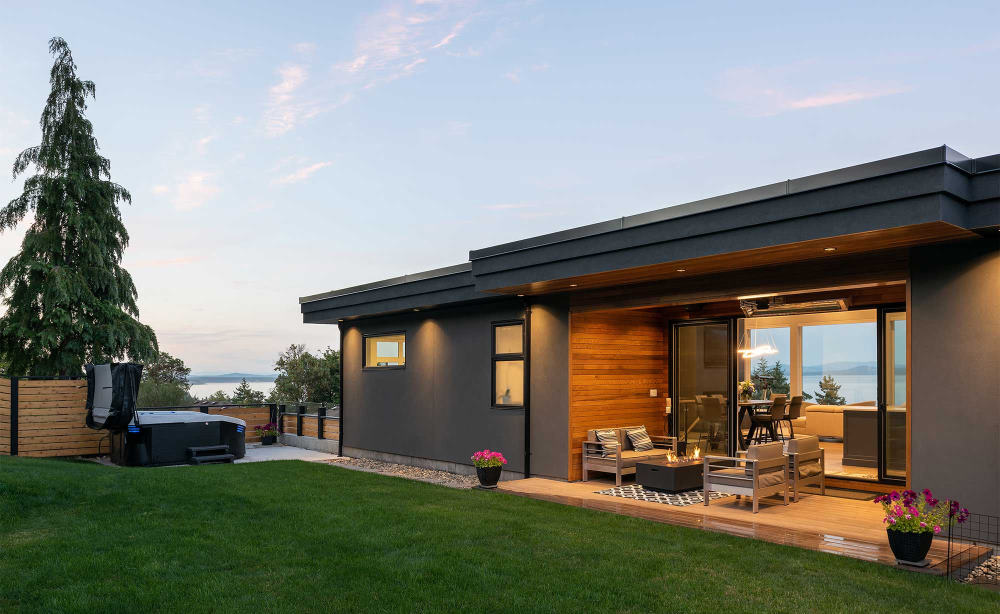 An increasingly popular trend for outdoor living spaces is the detached backyard room. These rooms borrow directly from luxury resorts, many of which offer 'private garden suites' similar to our guesthouse pictures above. It's all about the privacy of being detached from the main structure.
If you plan on spending much of your time outdoors, it's helpful to have a space that's easily accessible but also covered and lockable. Some people may use this backyard room as a type of storage, housing watersports equipment, bikes, garden tools and more.
But this room can also be a livable space. Imagine having a dedicated space to act as a bar room, complete with refrigerators, glassware and drink making supplies. No more trouncing through your home and rummaging around in the kitchen. For families, a separate room in the backyard acts a perfect play area for kids. That way you can enjoy the outdoors together as a family without having to worry what the kids are up to.
Backyard fitness space
One of the more popular trends of the day, thanks to the pandemic, is setting up a home gym in this detached outdoor space. A backyard room is perfect for this kind of setup. To start, you've got a secure, covered room to keep your weights and equipment locked up in. The room also provides some privacy for your workouts and separation from every day life, with the ability to spill out into the yard on nice days.
House your guests
Another option for a backyard room is to provide extra accommodations. This space could be perfect for friends or family visiting from out of town. Not only will they have the benefit of privacy in a detached room, they'll also be out of your hair in your own home. You can also build this space as a full separated legal suite in some situations. In Vancouver, to help combat the housing crisis, the city has allowed homeowners with laneways to modify their detached garages into legal suites or build their own laneway house. Contact your custom home builder to inquire about a backyard room addition.
If you're ready to upgrade your outdoor living space or are in the process of designing your new dream home, get in touch with Horizon Pacific Contracting. For more than three decades, we've been renovating and building finely crafted homes in the Victoria area with a commitment to high quality craftsmanship and a culture of excellence.
Browse some of our custom home building projects, or contact us today to get started on your new outdoor living space.
Please see our latest home building articles.